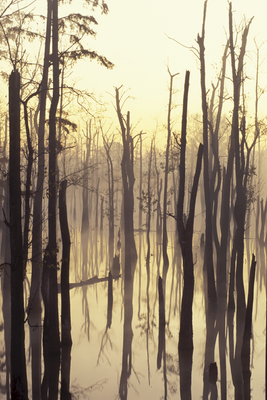 I have been a photographer for years. And I have sold many of my photographs, either to illustrate my travel articles or at arts and craft shows. At those shows there are certain ones that have repeatedly sold and are still some of the favorites with buyers. This doesn't exactly follow my theme as a "travel" blog post, but I thought I would share those photographs and how they came to be. I'm am revealing secrets of my best selling photographs.

Because my travel writing has taken me to many places across this beautiful country and several other countries, I have seen some amazing places and had opportunity to photograph them. I live in West Tennessee so most of my travels have been in the Southeast. Tennessee is a beautiful state and has nearly every kind of terrain, except maybe an oceanfront. That being said, several of my best sellers are from Tennessee.

Two favorites of buyers were actually taken in or near Memphis. A prize winner at a Florida art show is one I call "Cypress Swamp." Not a classy name, but descriptive. I tend to call my photographs the way I see them. I guess I could have named this one "Silhouettes in the Marsh." But I didn't.



I manipulate a lot of my photography using Photoshop and Lightroom. But this photograph was made before I had Photoshop. As a matter of fact, it was made with a 6 x 7 Pentax film camera. I did scan it into my files but I did no manipulation. What you see is what I saw. 

Here's the Story of "Cypress Swamp"

I was on my way to Shelby Forest, actually Meeman Shelby Forest State Park, early. Before I retired, I was in the habit of getting up early. But after retiring, not so much. As I left the Memphis City Limits, I approached the Loosahatchie River. The back water was up among these cypress trees. The sun had just risen and a fog had settled over this scene I was witnessing. It caught my eye and I stopped. I took several frames. This is the result. No editing. No manipulation.

When I first looked at the image, I couldn't determine if there were reflections and where they began. Look closely.

Another thing I love about this photograph is the many shades of browns. I have revisited this site many times since I made this photograph, but never have I seen this image repeated. 

That is the story of "Cypress Swamp." My next blog post will be about the other Memphis photograph that has been a best seller.